Accountability e confiança: perspectivas para o futuro
Resumo
Durante os últimos quatro anos, evidenciou-se a necessidade de líderes confiáveis que possuam integridade e coragem para lidar com as necessidades e desigualdades da sociedade nos EUA, assim como a necessidade de um governo confiável. Uma pandemia global e uma economia enfraquecida tornaram altamente improvável que os
governos em todo o mundo voltem ao velho normal, mas para onde vamos a partir daqui? Com base na experiência nos EUA, discuto quais esforços são necessários para reconstruir a accountability, governos dignos de confiança e a confiança nas instituições públicas em todo o mundo. Discuto o que o exercício de accountability envolve e descrevo como a elaboração de políticas públicas pautada em evidências pode apoiar tanto a accountability quanto a construção de confiança. Também destaco alguns desafios e oportunidades para construir um governo confiável e aumentar a confiança no governo.
Downloads
Não há dados estatísticos.
Referências
Anderson, Carol. 2016. White Rage. New York, NY: Bloomsbury Publishing.
Dubnick, Melvin & H. George Frederickson. 2011. Public accountability: Performance measurement, the extended state, and the search for trust. Washington, DC: The Kettering Foundation.
Edelman. 2020. Edelman Trust Barometer Update Accessed at: https://www.edelman.com/research/trust-2020-spring-update#:~:text=Despite%20the%20high%20trust%20in%20government%2C%20the%20pandemic,in%20the%20system%20was%20driving%20distrust%20across%20institutions.
GAO. 2018. Managing for results: Government-wide Actions Needed to Improve Agencies' Use of Performance Information in Decision Making. GAO-18-609SP. Accessed at https://www.gao.gov/assets/700/694269.pdf
GAO. 2020. Inspectors General: Independence Principles and Considerations for Reform. GAO-20-639R Accessed at https://www.gao.gov/products/GAO-20-639R
Hilliard, Nadia. 2017. The Accountability State: US Federal Inspectors General and the Pursuit of Democratic Integrity. Lawrence, KS: The University of Kansas Press.
Johnson, Charles and Newcomer, Kathryn. 2020. Federal Inspectors General: Truth Seekers in Turbulent Times. Washington, DC: Brookings.
Kee, James, John Forrer, Eric Boyer and Kathryn Newcomer. 2010. "Public-Private Partnership and the Public Accountability Question." Public Administration Review 70, no. 3 (2010): 475–485. .
Kendi, Ibram. X. 2016. Stamped from the Beginning. New York, NY: Bold Type Books.
Light, Paul. 1993. Monitoring Government: Inspectors General and the Search for Accountability. Washington, DC: Brookings.
Mayne, John. 2007. Evaluating for accountability: Myth or reality. In M. Bemelmans-Videc, J. Lonsdale, & B. Perrin (Eds.), Making accountability work: Dilemmas for evaluation and for audit (pp. 63-84). New Brunswick, NJ: Transaction Publishers.
Moynihan, Donald. 2008. The dynamics of performance management: Constructing information and reform. Washington, DC: Georgetown University Press.
Moynihan, Donald. 2009. How do public organizations learn? Bridging cultural and structural perspectives. Public Administration Review, 69(6), 1097-1105.
Moynihan, Donald. 2011. The big question for performance management: Why do managers use performance information? Journal of Public Administration Research and Theory, 20, 849-866.
Moynihan, Donald & Lavertu, S. 2012. Does involvement in performance management routines encourage performance information use? Evaluating GPRA and PART. Public Administration Review, 72(4), 592- 602.
Newcomer, Kathryn. 1994. "Opportunities and Incentives for Improving Program Quality: Auditing and Evaluating." Public Administration Review 54 (November l994): 147–154.
Newcomer, Kathryn. 1998. "The Changing Nature of Accountability: The Role of the Inspector General in Federal Agencies." Public Administration Review 57 (1998): 129–136.
Newcomer, Kathryn and Christine Ritter. 1998. "Accountability in the Federal Government," in George Thomas Kurian, Joseph P. Harahan (eds.), A Historical Guide to the U.S. Government. Oxford, UK: Oxford University Press.
Newcomer, Kathryn and George Grob. 2004. "Federal Offices of the Inspector General: Thriving on Chaos?" American Review of Public Administration 34, no. 3 (2004): 235–251.
Newcomer, Kathryn. 2007. "The Certainty of Uncertainty." Journal of Public Affairs Education 13, no. 1 (2007): 1–14.
Newcomer, Kathryn and James Kee. 2011. "Federalist 23: Can the Leviathan be Managed?" Public Administration Review 71 (2011): 37–46.
Radin, Beryl. 2006. Challenging the performance movement. Washington, DC: Georgetown University Press.
Radin, Beryl. 2009. What can we expect from performance measurement activities? Journal of Policy Analysis and Management, 28(3), 505-512.
Radin, Beryl. 2012. Federal Management Reform in a World of Contradictions. Washington, D.C.: Georgetown University Press.
Rainie, Lee, Scott Keeter and Andrew Perrin. 2019. "Trust and Distrust in America." Pew Reseach Center. Accessed at https://www.pewresearch.org/politics/2019/07/22/trust-and-distrust-in-america/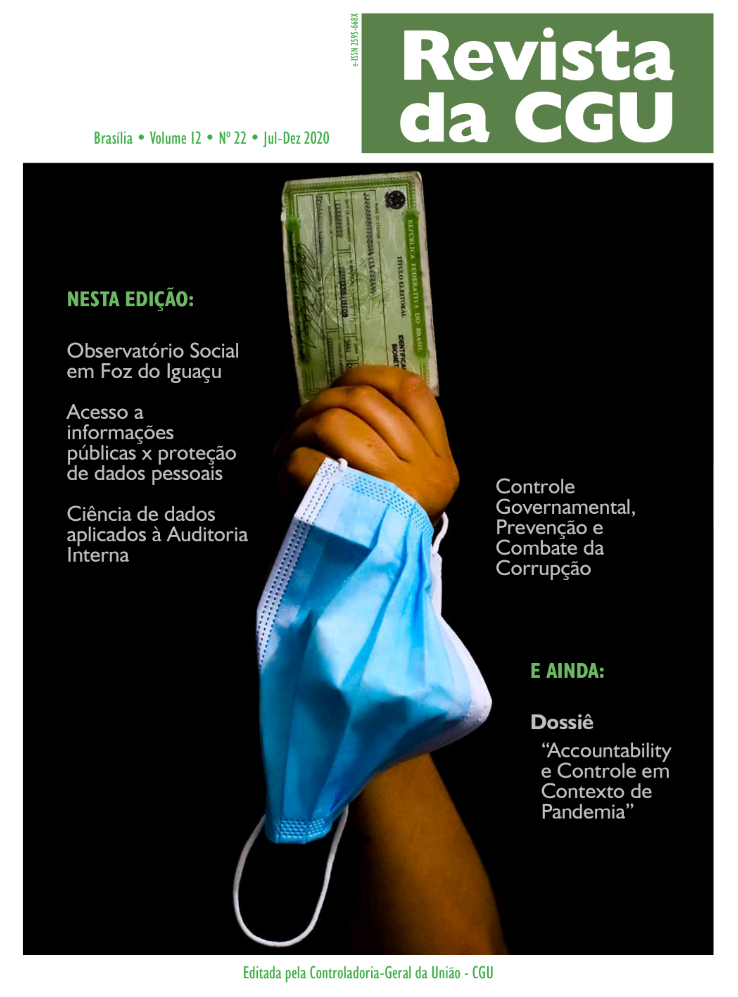 Downloads
Seção
Accountability e Controle em Contexto de Pandemia
Licença
Copyright (c) 2020 Revista da CGU
Este trabalho está licenciado sob uma licença
Creative Commons Attribution 4.0 International License
.
A Revista da CGU segue a  uma Licença Creative Commons Atribuição 4.0 Internacional (CC BY), que permite o uso e compartilhamento dos trabalhos publicados, desde que se atribua crédito aos autores e fontes. Os conteúdos publicados até 2019 contam com permissão genérica para uso e compartilhamento com indicação obrigatória de autoria e fonte.
Ressaltamos alguns pontos essenciais e não exaustivos relacionados:
A submissão da contribuição implica compromisso de não a submeter a outro periódico e autoriza, caso aprovado, a sua publicação.
A submissão da contribuição implica também que os autores concordam com a publicação, sem que disso resulte remuneração, reembolso ou compensação de qualquer natureza.
Os trabalhos publicados são de responsabilidade dos autores, não representando, necessariamente, a opinião da Revista da CGU.
A responsabilidade por eventuais plágios, fraudes ou imprecisões são de responsabilidade dos autores.
O responsável pela submissão declara, sob as penas da Lei, que a informação sobre a autoria do trabalho é absolutamente completa e verdadeira.
Destacam-se, ainda, os demais itens relacionados às Políticas Editoriais, em especial sobre a Missão e Escopo, Ética da Publicação, Processo de Avaliação pelos Pares e Política de Acesso Livre.